Welcome to Torah portions Vayakhel and Pekudei
Vayakhel means He gathered and Pekudei means countings.
Scripture passage: Exodus 35:1-40:38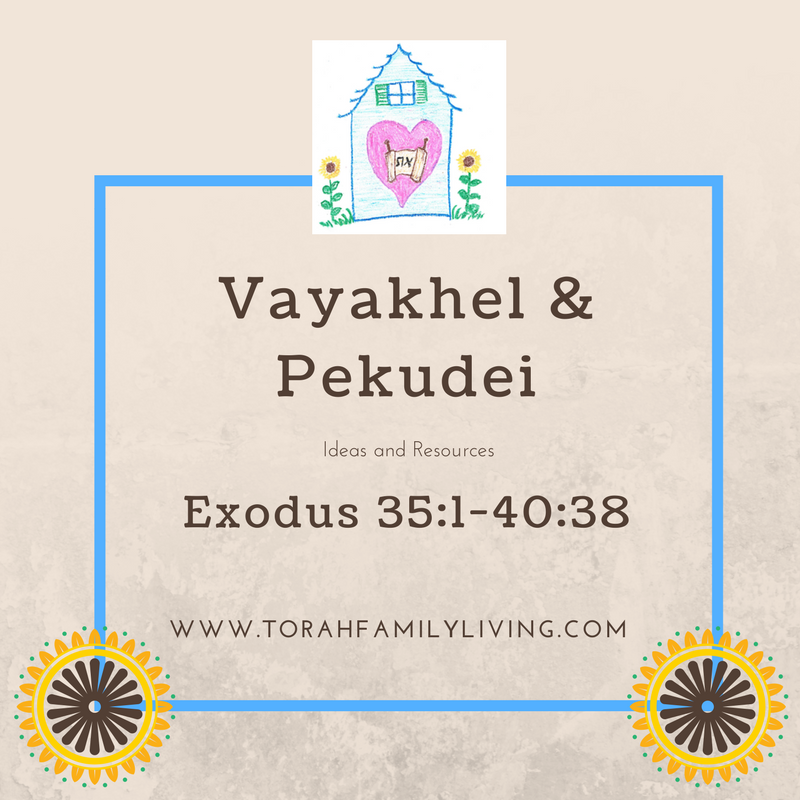 Moses gathered all the people together.
He taught them about keeping the Sabbath.
He also asked them to give gifts for building the Tabernacle.
They were all happy to give.
They brought jewelry and gold and jewels.
The men brought skins and linen.
Wood and silver were given.
The women began spinning linen yarns to use for embroidery.
Some people brought oil and spices.
Moses called out Bezaleel and Aholiab to do special work.
YHVH had given them special abilities.
Each part of the Tabernacle was built, just as Moses had been shown.
YHVH was pleased to see how generous the people were.
They gave so much that Moses had to tell them to stop.
There was more than enough to build the Tabernacle.
The curtains were sewn.
The inside curtains were embroidered with cherubim, or angels.
They were hooked together to make very large curtains for surrounding the courtyard.
The Tabernacle was held up with pillars of wood covered with gold.
Bezaleel made the Ark of the Covenant.
He made the box and covered it with gold, then made the mercy seat of hammered gold.
It was very beautiful with two cherubim facing each other.
He also made the Table of Showbread out of wood and covered it with gold.
This had a fancy molding and bowls and dishes and spoons.
The Menorah was made out of a single piece of gold, with seven branches.
It was decorated with golden almond blossoms and weighed one talent, which could have been 75 pounds!
Bezaleel also made the altar of incense and the altar in the courtyard.
Each item also had tools that went with it.
He made a laver to hold water for the priests to wash with.
Each part of the Tabernacle was carefully and beautifully made, just as Moses was shown on the mountain.
The priestly garments were also made for Aaron.
Moses checked every part and was very pleased with the work.
It was just as YHVH wanted it.
Moses then set up the Tabernacle.
He started with the Tabernacle and put the Ark in the Holy of Holies.
Then he worked his way out until he finished with the courtyard and the door into the courtyard.
Then an amazing thing happened!
YHVH came down to the Tabernacle in a cloud and stayed in the Tabernacle.
When the cloud lifted, the Children of Israel packed up and moved.
For their whole time in the wilderness, YHVH dwelt with them as a cloud during the day, and as fire at night.
My First Torah is available as a full color paperback.
Suggested Activities
Copywork passage: Exodus 35:27-29; Exodus 39:42-43
Tracing copywork book for all the Torah portions

Coloring pages: Aish   Challah crumbs
Read aloud stories: Aish
Worksheets for different ages: One Torah for all
Older child studies: Torah explorers   Restoration of Torah
Lessons in Yeshua's Torah – a book packed with activities for each Torah portion (affiliate link)
Morah, Morah, teach me Torah – a book written to help you teach preschool children (affiliate link)
Context for Kids
Get more ideas on Pinterest!
[grwebform url="https://app.getresponse.com/view_webform_v2.js?u=BxIrO&webforms_id=4720305″ css="on" center="off" center_margin="200″/]
We are participants in the Amazon Services LLC Associates Program, an affiliate advertising program designed to provide a means for sites to earn advertising fees by advertising and linking to amazon.com.