We all understand the importance of reading our Bibles, but how do we go about studying it? Are there certain things we should be looking for? Is there a correct way to go about it? What is the goal of studying, as opposed to just reading? Let's take a look at how to study our Bibles. I have listed seven things we should look for when we set out to study a passage of Scripture. I have included pictures from my own Bible study to illustrate. I copy verses by matching the words in each line in my Bible to a larger page. This automatically gives me generous margins to take notes, write cross references, etc.
Thematic connections and cross references
Thematic connections and cross references are probably my favorite thing to look for. It is so exciting to see how all of Scripture is connected. Looking for connections also prevents us from "cherry-picking" verses to suit our opinions. If a theme or idea is repeated throughout the Bible, it is a solid foundation to believe in. Just to define terms, thematic connections refer to passages that hold a similar theme or pattern. For example, a thematic connection throughout Scripture is the number three. Every time you see a story that obviously refers to the number three, it is a cue to think about death, burial, and resurrection.
There are two ways to look for connections. The first one is to look up related passages with a reference tool. Many Bibles list cross-reference passages in the margins. That is a great way to start. You can also use books like "A Treasury of Scripture Knowledge" to help you find connected passages to every verse in Scripture. Once you have read a passage, look for cross references. Read those verses or passages. The connection may be obvious or meaningful. Sometimes, it isn't. I usually copy verses when I study, and write at least the reference for cross references that seem important to me.
The second way to look for connected passages takes a bit of practice. As you study your Bible regularly, you will think of connected passages from previous studies. You may need to look them up in a concordance to find them in your Bible, like me. But, that's okay! Being able to connect stories and passages on your own shows a growing familiarity with your Bible. That is awesome!
Let's look at some examples of cross references.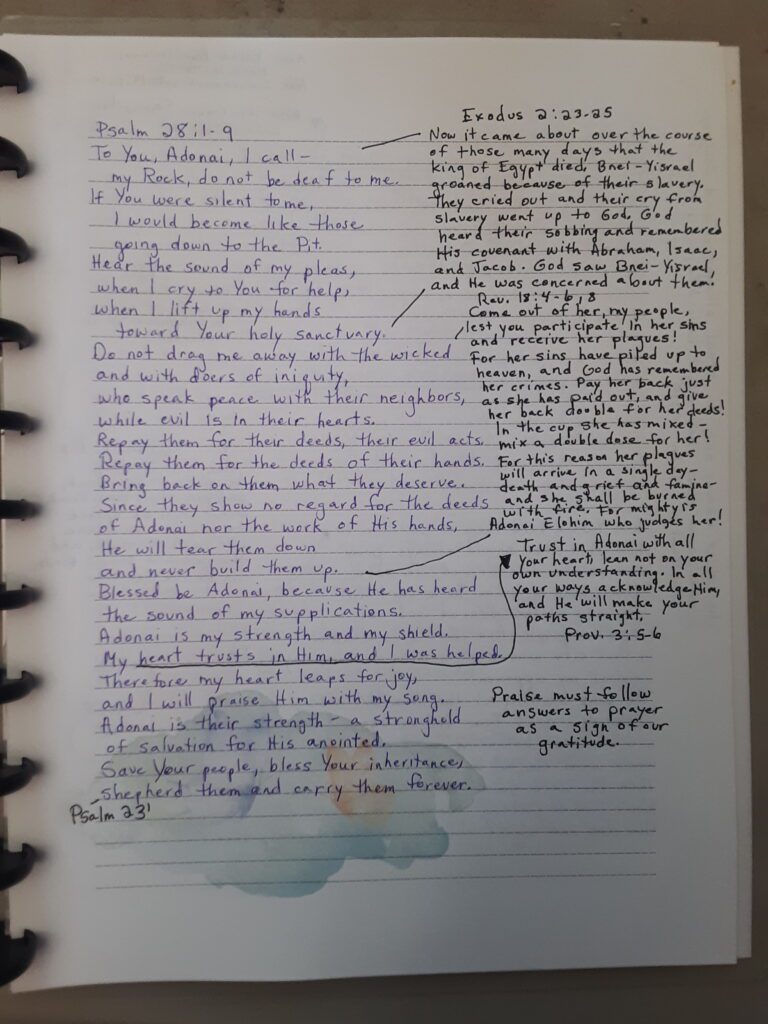 Define words
Sometimes we need to look up a word because it is unfamiliar to us. A dictionary is a great start. However, I encourage you to return to the original language whenever you are studying a word in Scripture. A Strong's concordance is a good start, but I want you to remember that Hebrew words tend to have many nuances. When Strong's lists several possible meanings for a word, the Hebrew word probably means all of them simultaneously.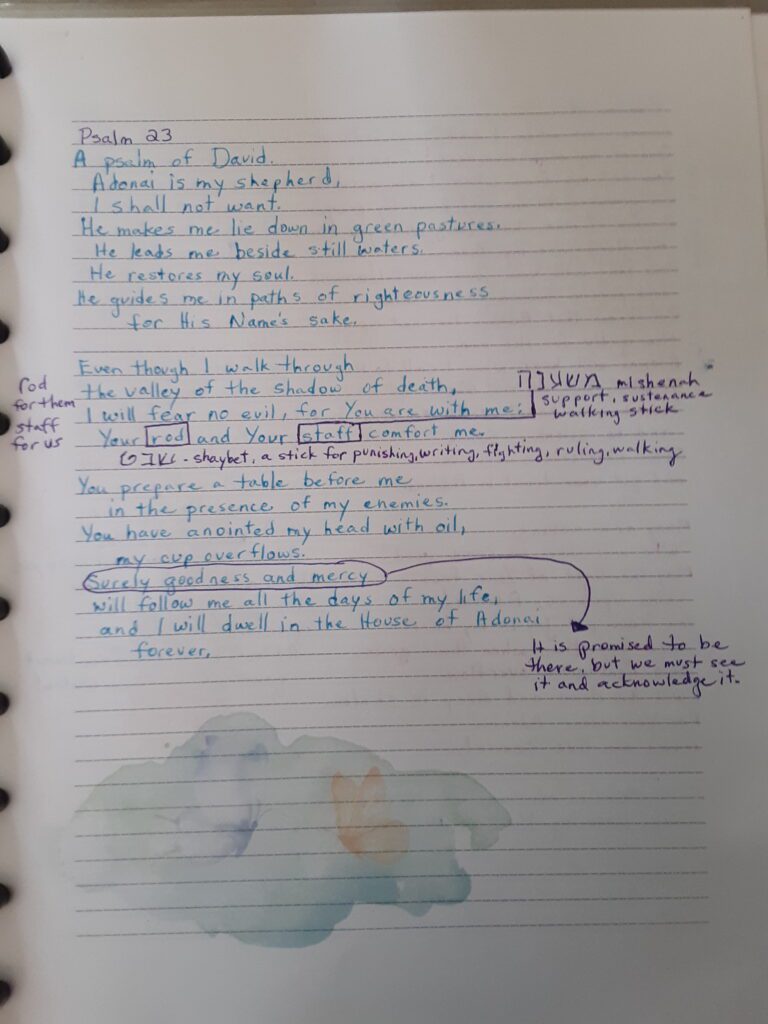 Lists
Philippians 4:8 is a good example of a list in Scripture. It's a good idea to copy out lists as you study Scripture. They may include commands we need to follow. They may also have an if/then structure. When you find these, writing them out with arrows can help you to see the flow.
Finally, brothers and sisters, whatever is true, whatever is honorable, whatever is just, whatever is pure, whatever is lovely, whatever is commendable- if there is any virtue and if there is anything worthy of praise- dwell on these things.

Philippians 4:8 TLV
To write notes on this list, you could put:
What should I think about?
true
honorable
just
pure
lovely
commendable
virtue
worthy of praise
Repeats of phrases or words
Just like lists are important to take note of, so are repeats. Look at Joshua 1, for example. How many times does he say to take courage, be strong, etc? Do you think maybe he's trying to make a point? When you look for repeats, look for exact phrasing, but also look for synonyms. Using closely related words in a passage can expand our understanding of a concept. Repeats in Scripture also act like bold underlining or a neon sign. We should be paying close attention to them.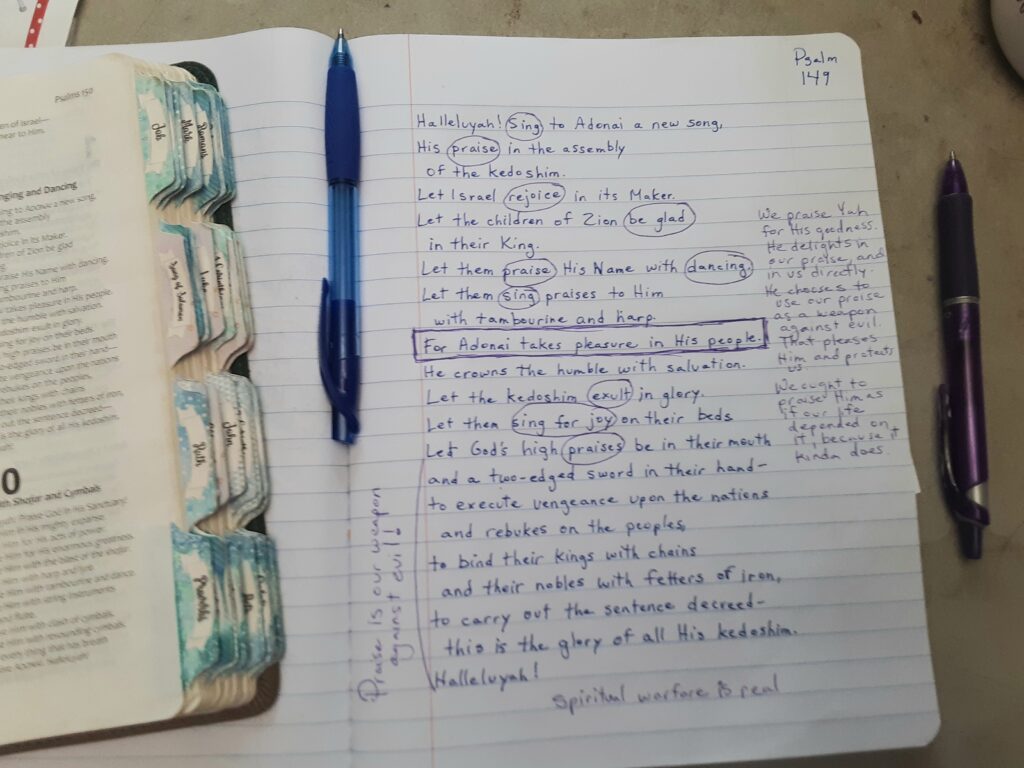 Direct commands
Look for verbs! In the vast majority of passages, the verbs will either refer to what we are supposed to be doing, or not doing, or they will be referring to what YHVH is doing. When you find commands, be sure to write them in simple terms, and be prepared to ask yourself if you are currently keeping that command. Has it been completely overlooked? Is it currently a struggle? Is it a command that you need to understand better to be able to obey it?
YHVH's promises to us, including Messianic references
It is so important that we understand who our God is. He, unlike the pagan gods, has chosen to make His character and expectations known to us. Any time you see YHVH and His actions described, you need to pay attention. He never changes, so His actions and reactions 3,000 years ago will remain the same today.
God is not a man who lies, or a son of man who changes his mind! Does He speak and then not do it, or promise and not fulfill it?

Numbers 23:19 TLV
Know who your God is! Learn that He is reliable, trustworthy, righteous and just. It is so much easier to trust and obey a God who is consistent in His character.
I have seen a dangerous trend of learning to follow Torah and at the same time, rejecting Yeshua as the Messiah. This ought not to be. Prophecies of Yeshua abound in Scripture. The gospels describe how He fulfilled those prophecies. He is divine. When you are studying your Bible, look for those Messianic references and the fulfillments. You only have to get a tiny bit into Genesis to start finding them.
How do I need to change to match what I see in Scripture?
The book of James gives us a warning. Bible study is not to be limited to an academic pursuit. If we study Scripture and walk away with only some interesting facts, we have failed. We must always find ourselves at application. How do we need to change to match what we are reading in Scripture? Our opinions, habits, beliefs, and choices must change to match Scripture, not the other way around.
But be doers of the word, and not hearers only, deluding yourselves. For if anyone is a hearer of the word and not a doer, he is like a man who looks at his natural face in a mirror- for once he looks at himself and goes away, he immediately forgets what sort of person he was. But the one who looks intently into the perfect Torah, the Torah that gives freedom, and continues in it, not becoming a hearer who forgets but a doer who acts- he shall be blessed in what he does.

James 1:22-25 TLV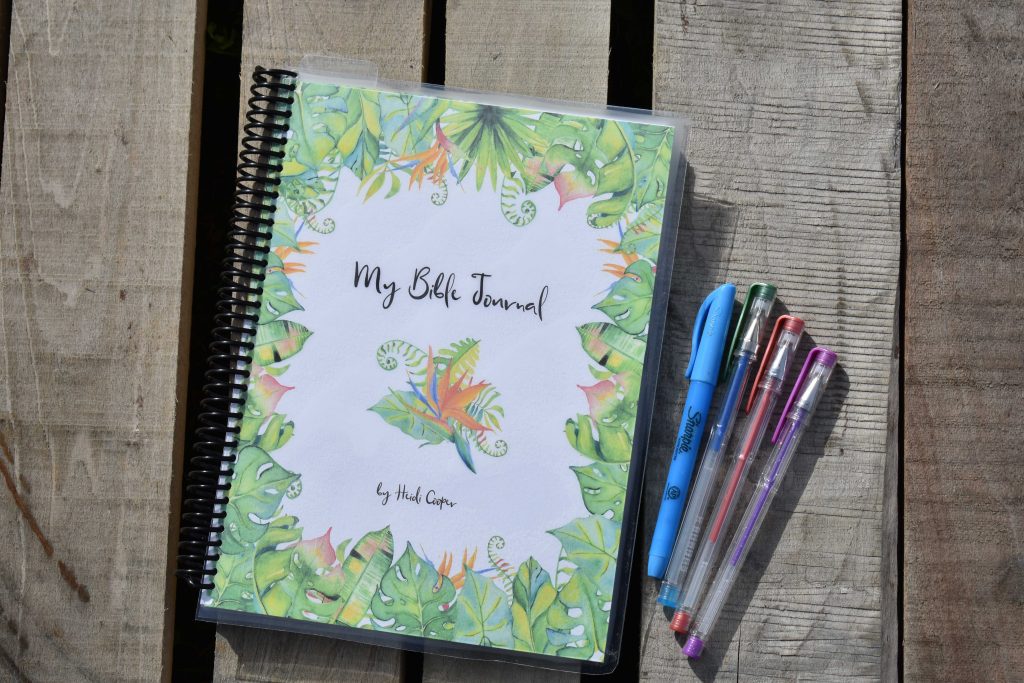 My Bible Journal
Are you struggling with your Bible study time? I know I sometimes do. Some days, I feel good if I just read a passage, but may not remember much of it. That's why I came up with this Bible journal. It gave me a way to read and also study Scripture.
This journal employs copywork as well as some thought provoking questions to help you learn more about YHVH, look for Yeshua, and evaluate where in your life you need to change.