Description
Are you looking for a way to make Torah real, exciting, and understandable for your young children? My First Torah will help you present Torah to your children on their level. For each Torah portion I have written a beginner reader level version. The first five books of the Bible make up the foundation for everything else we find in the Scriptures. My desire in writing this book is to give your child an opportunity to read the Torah portion each week in words that they can read and understand. Then your new reader can read Torah all by themselves.
Many parts of Torah can be more difficult to understand, let alone explain to children. I hope I have simplified that process for you. The tricky parts are still in there, but handled in a delicate, minimalist way to make them accessible for children. The Torah presents some tricky topics, such as circumcision. But we are instructed to read the Torah to even the nursing infant. So I have chosen to include these topics where they appear. However, I have used a minimalist approach to allow you, as the parent, the freedom to teach more in depth as you see fit. You know your child best of all.
You can use My First Torah as a great way to include Torah in your school day. It can be used as a Torah beginning to the day. It can be used as a beginning reader. It also lends well to copywork. Our children have also read the Torah portion out loud on Shabbat, from My First Torah.
I have chosen to refer to our Heavenly Father and Creator in a couple different ways. Sometimes I use Elohim, which means "Supreme Being." We often find the personal name of our Creator in the text. Out of respect for anyone using this book, I have chosen to use YHVH. This is the English transliteration of the consonants we see in the Hebrew language. There is much debate over the proper pronunciation, or whether to pronounce the name. I wish to recognize that He has a personal name, but give your family the freedom to teach your children about His name as you see fit.
My First Torah is an 8×10 full color paperback or hardcover book with 27 hand drawn illustrations. It makes a great family read, because of the ease of understanding.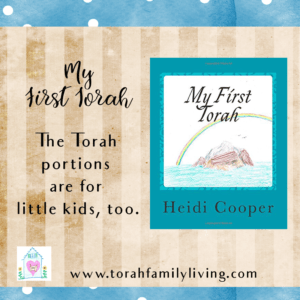 From our readers
It looks great, we have a lot of younger children and it looks like a great way to simplify for them. – Jennifer B.
Thank you! I think it looks great, and love that you involved your children in making it. It's great to see options to teach my little ones with on a level they'll understand better! – Cassandra B.
We would love to own such a treasure! – Selena M.
I love the simplicity of this book, yet it is Torah in very easy to digest form. I know this will be quite helpful in my home for family devotions. I know YHWH could use this to open the eyes of everyone's understanding within my home to the wonders of His truth and great love. – Danielle K.
I can't wait to use My First Torah with my son. He is 9 and is really having a difficult time with reading. He is currently reading at about a grade 1 level, I think he and I will be blessed as we work on his reading skills while studying torah together. – Melanie G.
We will use it mostly for family reading time but I can envision using it in many creative ways as my kids get older. Excited to see a child-friendly way of teaching Torah! – Danielle C.
Everything about this book is exciting to me!! I cannot wait for it! – Jeff O.
I agree that this looks amazing! We are about a year into following Torah, and we have 3 girls under 8 (&a baby on the way) who would love to have this! Keep it up! – Amanda L.
We have used the My First Torah stories from your website for a couple of years now, and we are excited to see it complete in book form! We would love to win a copy! We plan to use it for our Shabbat study time with the kids. Everyone takes turns every week reading the Torah portion, and this is a great way for even the youngest kids to be involved and understand more. Thank you SO much for putting this together! – Leslie D.
I will use it in our homeschool to teach my daughter about the Torah and I am so excited it is written for her level. – Cindy N.
I would use it in our family devotions, and in our homeschool time. I love that it helps to explain the more difficult things on their level. – Tewauna B.
I will use it to learn more about the Torah (we have been following it for about 3 years now), and also for family reading time in the evening to continue with the portion we read in the morning to help develop a better understanding for them, and for my husband and me! – Elizabeth S.
I would use this with my 3 kiddos in our homeschool. Since we are new to Torah, this would be a great resource for our family. – Melissa R.
I would love to have a copy of "my first torah" to homeschool my children with. I like that it explains torah in a kid friendly way. – Staci S.
I would use it in our homeschool. – Kelly S.
We'd love one to use during homeschool time. – Stephanie T.
All the way from Costa Rica! We will use it with my three kids Elias 5, Sofia 4, and Nehemiah 1. It will be great since we don't have much for books out here! (we can have someone ship it down I know that this Torah will be encouraging and helpful to us all. And will inspire the kids to draw about what they learn in Torah as well!! I know for a fact that we all learn from each other and to have kids write/draw for kids is wonderful! – Yehudit Ya'akov