How about a little peek into my house of late?
Life is good! YHVH is faithful!
I have been thinking much lately about living on purpose. We are to bear our Creator's image, which is often hard to do if we are surrounded by stuff. For several weeks, I have been trying to prepare for Shabbat, but it seems to be taking longer and longer, and I still don't feel ready. I seem to spend most of the time moving stuff around to try to make things look tidy! This is not right. So I have begun an endeavor into the world of decluttering. So far I have filled 4 trash bags with donate items like surplus baby clothes. I also have finally solved my pesky desk issue. I kept trying to design a desk that would store everything I needed. But when I decluttered, I realized it was better to have less stuff on the desk. (That's a bit of a slap the forehead moment!) I now have a lovely wooden table that Doug made for me years ago. It looks like it should be in a living room, and still has everything I need at hand. 🙂 I would encourage each of you to really look around you. Are the things in your home helping you to reflect YHVH or do they make everything harder? For me, the answer was the latter.
We are also about half way through the school year. I want to encourage the children to move more towards independent learning, meaning that I can give them an assignment and they can go do it. Right now, with four students that need my help, a toddler and a baby, everyone needs mommy at once. This is not always a good scenario. So I want to encourage them to have a bit of self motivation. I wrote down all that is required for them to finish the school year. I showed each of them their list, and explained that they can work fast or slow, but they will not get summer vacation until the list is crossed off. They were very motivated today!
We also have some new arrivals here. I was a bit surprised to find two little lambs when I went to the barn on Sunday. We have never had lambs this early, but I am very thankful that they are doing well and are a good size. We use themes to name our animals, and all the hair sheep get Star Wars names. (Yes, now you know my secret, our family likes Star Wars. lol) So our little sheep bear the names of Jedis: Luminara and Plokoon. The dark one is a girl, the white one is a boy.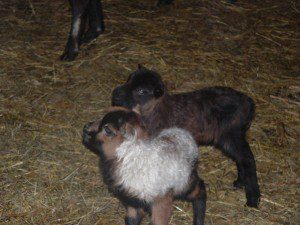 I was also very grateful for my father in law to give me a serger he bought at an auction. I am thrilled, since my old one has been out of commission for some time. In a desire to simplify diaper changes, I am switching to flat diapers. They can be used in a number of ways, fit both the boys, and dry quickly on my inside clothesline, saving me dryer money. So the serger has been quite busy making diapers, 12 so far.
Holly likes snuggling with her little brothers.
We are all doing pretty well. I know that someday soon I will sleep through the night, but until then, I'm enjoying late nights reading of "Around the World in 80 days." Noah is enjoying yogurt and bananas. Our home has been a lot more peaceful since we started using enzymes for the aspies in our house. I'll be posting about that more soon on my aspie blog.
How is life at your house?
Many blessings to each of you.