Ok, you might have noticed that we made it to the middle of Leviticus. You know, that part that talks about childbirth and leprosy and all that good stuff. Are you going to read it to your kids, or skip it? Well, I would encourage you to tackle it, but before you do, I'll share a few ideas with you. 🙂
Keep things simple. Feel free to skim more difficult parts and stay longer on parts that are easier to explain.
Don't underestimate your kids. They can understand more than you think, without sharing too much info.
Try to find the principles behind the laws. Can these principles apply to other areas of life?
So, we start with childbirth.
Here's my explanation: It takes a lot of work for a momma to have a baby! She grows that baby in her belly for nine months and then works hard to bring that baby out. YHVH knows all about that, so He made sure that mommas will have plenty of time to rest and heal. If she has a boy, she gets to rest for 40 days. She does need to make sure he is circumcised on day 8, though. If she has a girl, she gets to rest for 80 days! YHVH made it a law so everyone else would remember to let her rest instead of asking her to do too much.
Then we move on to leprosy.
My explanation: Leprosy is an awful disease that we don't completely understand today. It seemed to terribly affect the skin, and could be passed from one person to another. YHVH gave the priests information so that they could diagnose and treat leprosy. If someone was sick, they went to the priest and followed their directions. If it looked like leprosy, the person would be shut up alone and then checked. If it was leprosy, then the person had to live outside the camp away from other people. Today we call this a quarantine, which helps stop the spread of disease. The priests were also trained to check objects and homes for certain infections. The house or objects had to be thoroughly cleaned or even destroyed if infected. This is a good reason to keep everything clean and clutter free to begin with. Kids, what kinds of disease might be found in your bedroom?
Oh, my! The monthly cycle thing!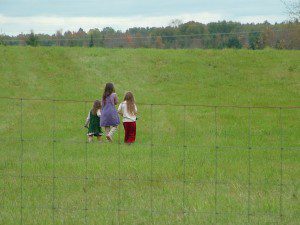 My explanation: Women and girls are special. They were designed to be able to carry a baby in their womb. Every month, the womb prepares to hold a baby. Before a girl gets married, her womb practices every month. When a woman is married, the womb needs to be ready, because YHVH may choose to bless them with a child. If He doesn't, the womb cleans itself out. During this time, the woman is to keep herself a bit separate. Her husband usually sleeps in a separate place and she often has a special chair. This lasts for a week. This is another way for YHVH to make sure that women get to rest during this time, because it can be tiring. It also gives us a picture of our Messiah. You see, we cannot be with Yahshua right now, but we are glad we can talk to Him as we wait for the day when we can really be with Him. As you see Momma and Daddy apart for a week, and then give each other a big kiss when the week is over, you can look forward to the day when we will live with Yahshua in Israel. It will be a wonderful time.
I hope you feel brave enough to tackle a more difficult part of the Torah. We are to teach our children all of Torah. Do you have an explanation for these trickier teachings? Please share! 🙂