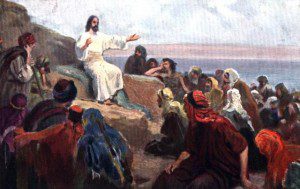 In Hebrew thought, a name is the the breath and very essence of a person. It describes his character. I have found this to be true in my own family, as I watch each of my children grow into their names and prove them true.
In the Bible, I see the same things happening. Knowing the meaning of the names in the Bible brings so much light to each story. Did you know, for example, that Jonah means dove? Jonah was supposed to bring peace (definitely the picture a dove brings to my mind) to an entire city. Yet we see Jonah "flying" in the wrong direction and requiring "redirection." He does ultimately bring peace to all of Nineveh by faithfully preaching his message. He also becomes a sign of the Messiah, the ultimate restorer of shalom. He lived up to his name.
Our Messiah, Yahshua, carries the name of our Creator, YHVH, and defines Himself as the Savior, the Promised One, by His name. Yet, a tragic thing has happened. His name has been hidden from us for 2000 years, and in its place we have been taught a meaningless name.
Jesus means nothing in Hebrew; the closest word is sus, which means horse. Jesus means nothing in Greek; the closest word is zues, nope, that's a pagan god. Jesus means nothing in English, except misleading us into thinking we serve a Spanish Savior. The name Jesus does not communicate to us the breath and essence of our Savior.
Unfortunately, the Savior that we have been presented with for 2000 years supposedly freed us from the Torah. This is the Savior that I was taught. This is the Jesus that I was taught. This Savior nailed the law to the cross so I didn't have to keep it.
This is not the Savior of the Scriptures. The Savior foretold in the Tanakh would reinforce Torah and keep it perfectly. He would demonstrate the spirit of Torah, so we could follow His example. If He had done away with Torah, he would be a false prophet.
Yahshua lived up to His name. He represented YHVH to His people. He kept Torah perfectly. He provided salvation for Israel.
The Jesus that is being taught in churches did not uphold Torah. He declared Torah finished.
Knowing this, I do not teach my children to use the name Jesus. We serve Messiah Yahshua. We obey Torah. I do not want my children using a meaningless name that is connected with the doing away of Torah. To do so would be like telling my husband to call me Della, the name of one of his old girlfriends. It is a name he is familiar with, after all. Of course this makes no sense. I am his wife and he is to be faithful to me, which includes calling me by my rightful name, Heidi.
We should teach our children to do the same. We are faithful to YHVH and to Torah. We serve Messiah Yahshua and obey Torah as He did. We do not call Him by a meaningless name that is connected with the teaching that Torah is obsolete.
We do not try to reach Muslims by calling YHVH by the name allah. Nor should we try to reach Christians by calling Yahshua by the name of Jesus.
Let's restore the meaning, the breath, the essence of our Savior's name, and call Him by His rightful name, Yahshua.
May the name of Yahshua be praised!