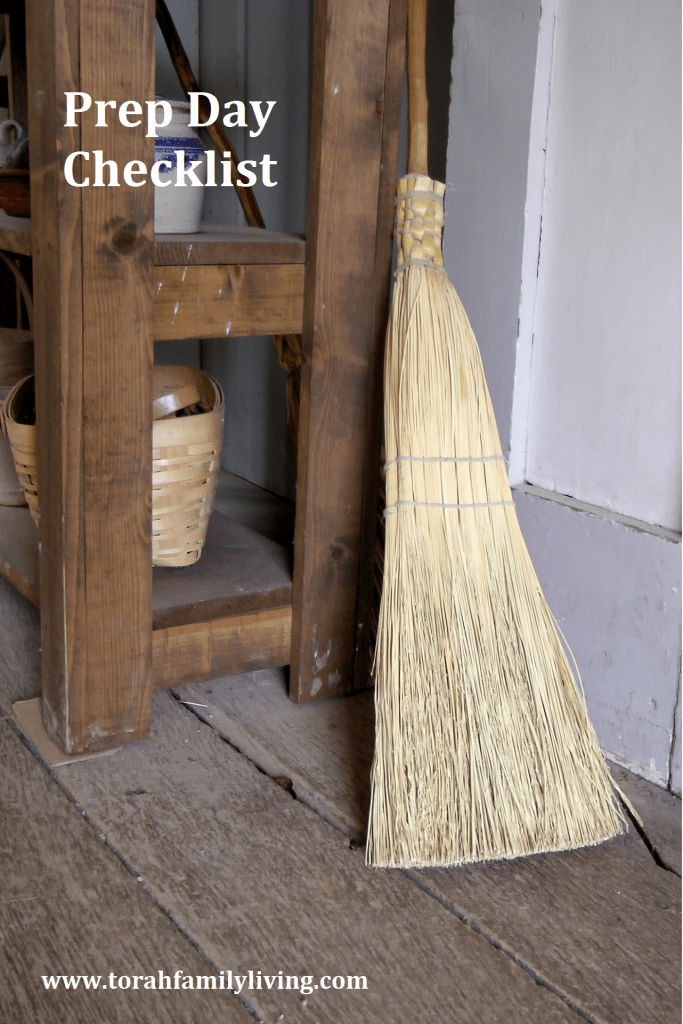 Here are some helpful reminders to help you get everything ready for Shabbat, because no one wants to remember the wet load of laundry in the middle of a relaxing and refreshing Shabbat.
Have you…
1 taken care of the laundry, particularly the wet stuff?
I make sure I have clean diapers every Friday and we also make sure all the baskets of clean laundry are dealt with.
2 paid any upcoming bills?
I have failed on this in the past and woke up in a panic Friday night. Make sure you doublecheck this one.
3 returned phone calls?
Along with phone calls, you may want to wrap up loose ends on social media as well. It is nice to take a break on Shabbat.
4 cleared all the seating in preparation for relaxing?
I tell the kids, "I'm going to be in this living room all day tomorrow and I don't want to look at mess!" Make the effort to prepare your home for relaxing.
5 made snacks?
We like making popcorn for Friday night, along with some of these snacks. Think through your other meals as well. Shabbat is our day off, so be sure to have your food ready ahead. Want a hot meal on Shabbat? Consider a crockpot!
6 set the day apart by making it special in some way?
We always eat burritos (our favorite) on Friday night. We also set out a candle, sing a couple blessings, and enjoy dinner music. These are our cues that Shabbat is finally here. For more insight on making Shabbat special, read The Children's Ketubah Project.
7 prepared a Torah related activity for your children?
There are many resources available for teaching the weekly Torah portion to your children. You may want to print some activities out ahead, or at least jot down some study topics or teachings you intend to pursue. If you are blessed to have a group of believers to meet with, be prepared for that as well. When we are able to join with others, we pack the diaper bag, lay out clean clothes, and find everyone's shoes.
8 apologized to anyone you may have hurt or offended?
To truly enter into YHVH's Shabbat rest, we need clean hearts. Make sure you are right with Him and with those around you. Please be aware that Satan hates families that obey YHVH's commands. If He can find a way to disrupt your prep day, He will.
9 cleaned the kitchen, particularly the dishes?
In my home, I try very hard to have the kitchen clean by dinner. In the winter, the sun goes down as we are eating, so I use paper plates. After dinner, we put food away, clear the table, and put any dirty dishes right in the dishwasher or in a large dishpan on the counter to deal with later. Do what you can to get things done ahead of time.
10 been looking forward to this gift of Shabbat?
Many families use music to set the mood as they prepare. You may also want to set aside a few minutes in the afternoon to quietly regroup and pray for your heart to be ready for the wonderful rest that is Shabbat. As the sun goes down, remember that you can only do what you can do. If you didn't feel you prepared well enough, just pray. Pray for YHVH to cover your lack and give you peace anyways. Life happens, and you don't need to be hard on yourself. Not long ago, I had to rush out the door at 2:00 in the afternoon with an injured child. Needless to say, some things didn't get done. But it's okay. You can enjoy Shabbat all the same.
What would you add to this list? How do you get ready for Shabbat?
Remember the Sabbath day, to keep it holy.
Six days you shall labor, and do all your work, but the seventh day is a Sabbath to YHVH your God. On it you shall not do any work, you, or your son, or your daughter, your male servant, or your female servant, or your livestock, or the sojourner who is within your gates.
For in six days YHVH made heaven and earth, the sea, and all that is in them, and rested on the seventh day. Therefore YHVH blessed the Sabbath day and made it holy.   Exodus 20:8-11
[grwebform url="https://app.getresponse.com/view_webform_v2.js?u=BxIrO&webforms_id=5214705″ css="on" center="off" center_margin="200″/]