When you look around, the world can appear pretty scary. Obviously sinful behavior is accepted as normal. What are we to think when we see the nations seeking to destroy the righteous rather than protect them?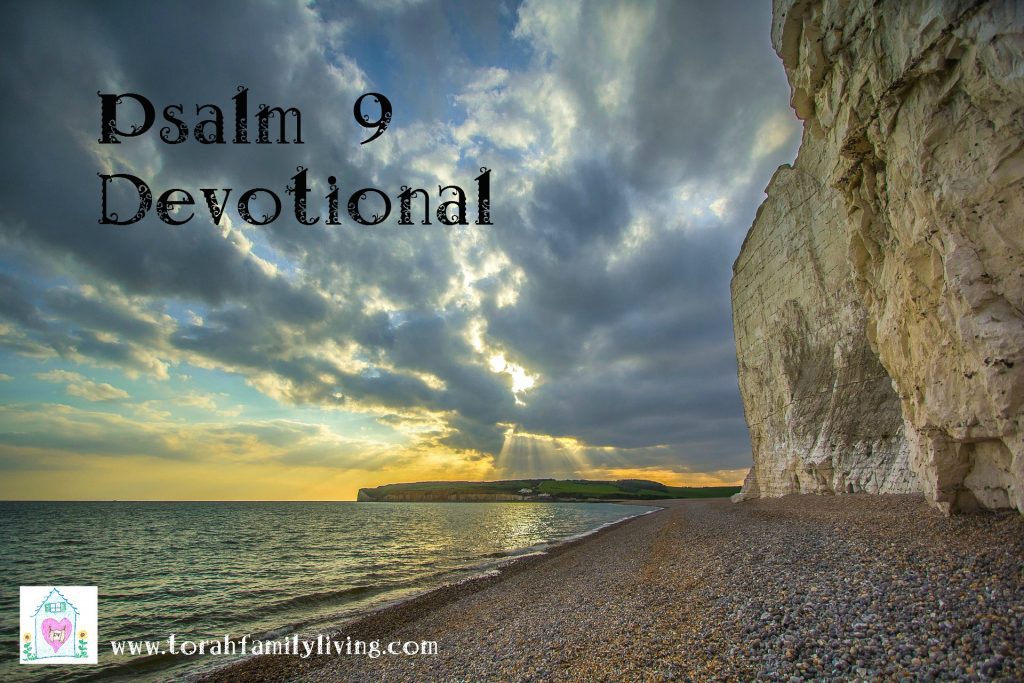 I will give thanks to the LORD with my whole heart; I will recount all of your wonderful deeds.
I will be glad and exult in you; I will sing praise to your name, O Most High.
When my enemies turn back, they stumble and perish before your presence.
For you have maintained my just cause; you have sat on the throne, giving righteous judgment.
You have rebuked the nations; you have made the wicked perish; you have blotted out their name forever and ever.
The enemy came to an end in everlasting ruins; their cities you rooted out; the very memory of them has perished.
But the LORD sits enthroned forever; he has established his throne for justice,
and he judges the world with righteousness; he judges the peoples with uprightness.
The LORD is a stronghold for the oppressed, a stronghold in times of trouble.
And those who know your name put their trust in you, for you, O LORD, have not forsaken those who seek you.
Sing praises to the LORD, who sits enthroned in Zion! Tell among the peoples his deeds!
For he who avenges blood is mindful of them; he does not forget the cry of the afflicted.
Be gracious to me, O LORD! See my affliction from those who hate me, O you who lift me up from the gates of death,
that I may recount all your praises, that in the gates of the daughter of Zion I may rejoice in your salvation.
The nations have sunk in the pit that they made; in the net that they hid, their own foot has been caught.
The LORD has made himself known; he has executed judgment; the wicked are snared in the work of their own hands. Higgaion. Selah.
The wicked shall return to Sheol, all the nations that forget God.
For the needy shall not always be forgotten, and the hope of the poor shall not perish forever.
Arise, O LORD! Let not man prevail; let the nations be judged before you!
Put them in fear, O LORD! Let the nations know that they are but men! Selah.

Psalm 9  ESV
When we read Psalm 9, it may not sound like present time, because we do not see the evil
destroyed. But YHVH sees the end from the beginning. He sees the wicked nations already
destroyed. In other words, it will happen. He promised it. The exciting part is that, not only will
YHVH bring justice, but He will use the very traps that the wicked had planned to use against
us. You may have heard the phrase, "the best laid plans of mice and men," which simply
illustrates that we can make plans, but sometimes they are turned over on top of us. In
Scripture, we see a very specific example of this in the book of Esther. See if you can find it!
It is very easy to live in fear. I should know. I spent a lifetime doing it. But we all must come to
a point where we decide who we are trusting in. If we trust in ourselves to save us, we will fail.
If we expect smooth sailing our whole lives, we will be equally disappointed. Storms will come,
but if we are putting our trust in YHVH, we will be able to weather the storm. He is ultimately in
control. He always has been, and He always will be. When we realize and truly embrace that,
the fear tends to fall away.
We can also lessen the amount of anxiety we allow in our lives in the first place. We don't need
to watch the news every night, or read every news article. The more we expose ourselves to
the bad news of the world, the more we tend to fear. Yeshua taught us to take one day at a
time, and trust Him to provide for all our needs. We can be aware without filling our minds with
news of the storms around us.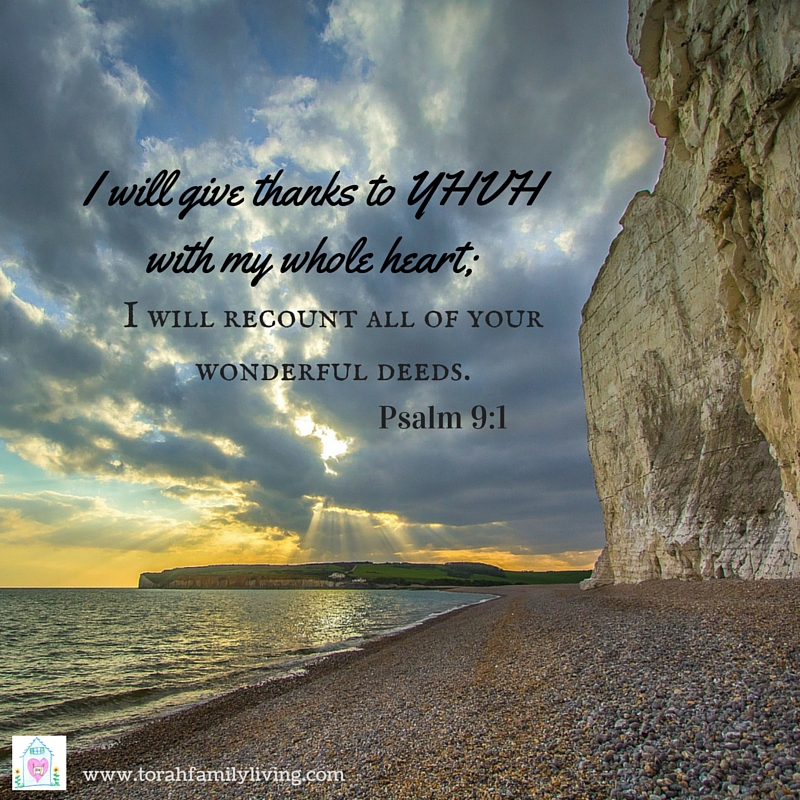 1. Tell about the incident in Esther where the plans of an evil man were turned back onto him.
2. What do you tend to fear the most?
3. What specific promises in Psalm 9 would help you overcome those fears?
4. List all the ways YHVH is described in this Psalm.
5. There are several actions listed in this Psalm that you can take to help you trust YHVH more, such as "I will give thanks." List them.
6. Pick one verse from this Psalm that really jumps out at you or speaks to you. Write it down.