Welcome to Torah portion Bo.
Bo means Come.
Scripture passage: Exodus 10:1-13:16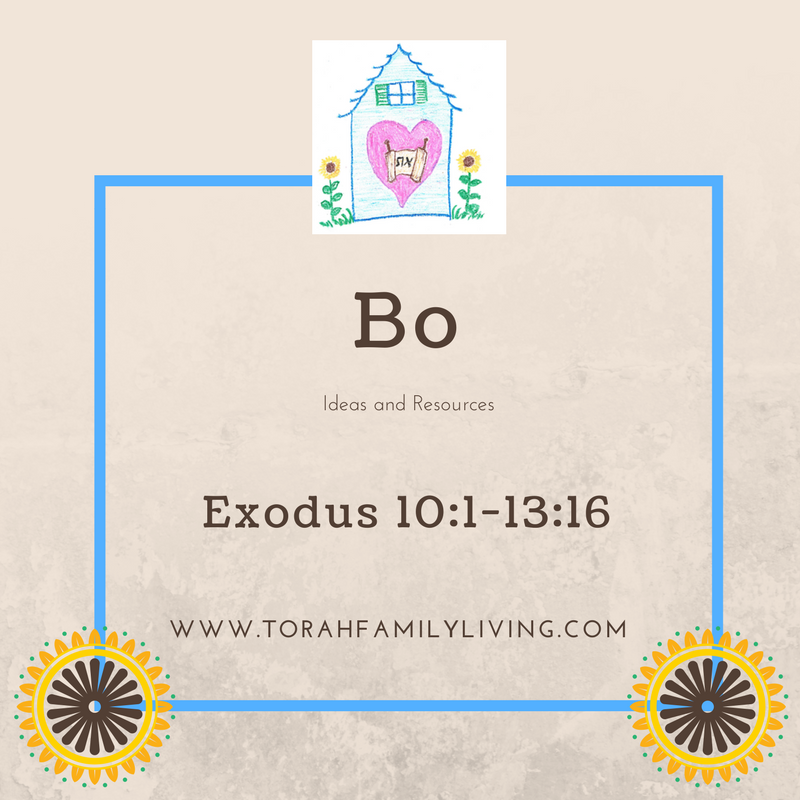 YHVH wanted to show His might and power in Egypt, so He sent the eighth plague.
Locusts came and covered the whole land.
They ate everything that was green, and filled the houses and covered the ground.
There were so many locusts that the ground was covered.
Even the Egyptians wanted the Hebrews to leave, but Pharaoh refused to let them go.
The ninth plague brought darkness to all of Egypt.
It was so dark that you could feel the darkness.
No one was able to leave their homes.
The darkness lasted for three days.
But everyone in Goshen, where the Hebrews lived, had lights in their houses.
The last plague would be much worse than all the others.
After this plague, the Hebrews would leave Egypt.
Moses gave them instructions to prepare for the journey.
They were to ask for gold and silver and clothing from the Egyptians.
They were also to prepare for the Passover.
Each family was to take a lamb and care for it for five days.
The lamb needed to be a year old ram, in perfect condition.
On the fifth day, they were to kill it and put the blood on the doorpost of their house.
Then they would roast and eat the lamb in one night.
Each family was to eat quickly with their sandals on, because they would soon be leaving Egypt.
Moses told the Hebrews that they should keep the Passover Feast every year to remember their deliverance from Egypt.
Then they would eat flat bread for a week, during the Feast of Unleavened Bread.
We keep the Passover every year to remember when the Hebrews left Egypt.
The Hebrews did just as Moses instructed.
They killed a lamb and put the blood on the doorpost of their house.
They ate the lamb quickly in their homes.
At midnight, YHVH went through the land of Egypt and killed every firstborn among the people and the animals.
Even Pharaoh's firstborn son was killed.
But if there was blood on the doorpost, YHVH passed over that house.
Everyone who obeyed was delivered.
Pharaoh pushed the Hebrews out of Egypt as quickly as he could.
They did not even have time to make bread for their journey.
They took gold, silver, jewels and fine clothing from the Egyptians, who gladly shared.
Moses brought the bones of Joseph to be carried back to Israel.
All the way, YHVH led them.
During the day, they followed a great pillar of cloud.
During the night, there was a pillar of fire.
My First Torah is also available as a full color paperback!


Suggested Activities
Copywork passage: Exodus 12:40-42
Cursive copywork book for all the Torah portions

Coloring pages: Aish   Challah crumbs
Read aloud stories: Aish
Worksheets for different ages: One Torah for all
Older child studies: Torah explorers   Restoration of Torah
Lessons in Yeshua's Torah – a book packed with activities for each Torah portion (affiliate link)
Morah, Morah, teach me Torah – a book written to help you teach preschool children (affiliate link)
Context for kids video
Get more ideas on Pinterest!
[grwebform url="https://app.getresponse.com/view_webform_v2.js?u=BxIrO&webforms_id=4720305″ css="on" center="off" center_margin="200″/]
We are participants in the Amazon Services LLC Associates Program, an affiliate advertising program designed to provide a means for sites to earn advertising fees by advertising and linking to amazon.com.
Save
Save
Save