Welcome to Torah portion Balak
Balak means Balak 🙂
Scripture passage: Numbers 22:2-25:9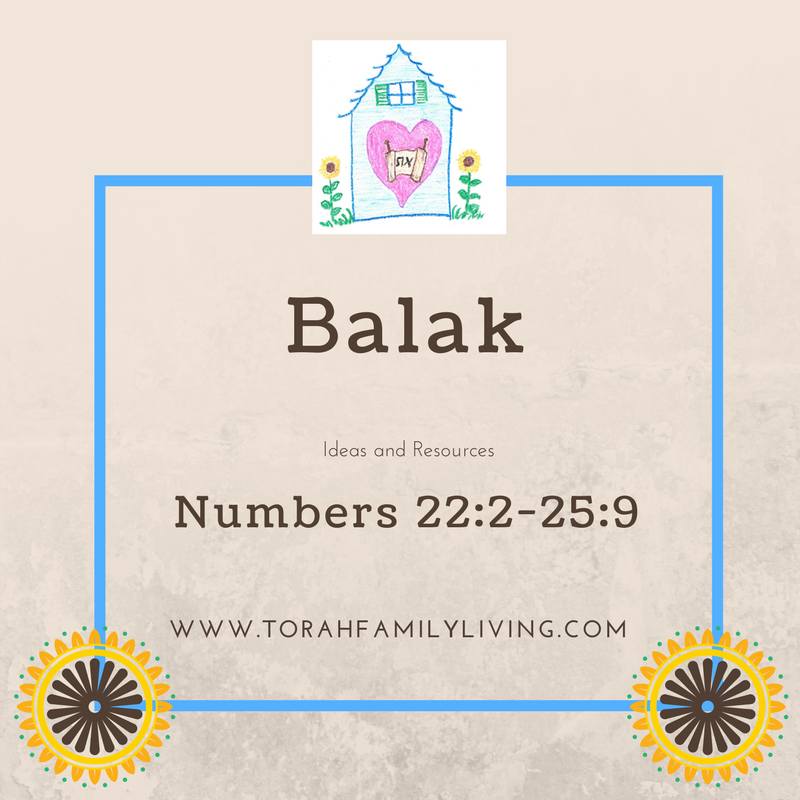 The Children of Israel camped near Moab.
Balak, the king of Moab, and all the Moabites were very fearful of Israel.
So Balak sent a message to Balaam, asking him to curse Israel, so they would leave.
Balaam talked to Elohim about the message.
We are not sure if Balaam really trusted and obeyed Elohim.
We just know that Elohim spoke to him.
Elohim told Balaam that he would not curse the people of Israel, because they were already blessed.
So Balaam refused to curse Israel.
But Balak would not give up so easily.
He offered to pay more for the curse.
Balaam decided to go, and Elohim told Balaam to only do what He told him.
He was very angry with Balaam for even considering cursing Israel.
As Balaam rode his donkey, the angel of YHVH stood in the road with a sword.
The donkey saw the angel and turned into a field!
Balaam was angry and hit the donkey.
The angel of YHVH stood in a narrow path with a wall on each side.
The donkey saw the angel again, and rammed Balaam's foot into the wall.
So Balaam hit the donkey again!
The angel of YHVH stood in the way again, and this time there was nowhere for the donkey to go.
So the donkey just laid down on the ground.
Balaam hit the donkey again.
But this time YHVH allowed the donkey to talk.
"What did I do to you, that you hit me three times?"
Balaam said, "I wish I had a sword. I would kill you!"
The donkey replied, "Haven't I been your faithful donkey for all these years? Is this how I normally behave?"
Then Balaam saw the angel of YHVH.
Balaam was fearful and fell on his face.
He knew that the angel had power to kill him instead of the donkey.
Balaam knew he had sinned and offered to go back.
But the angel told him to continue but only speak what he was told.
Balaam met Balak, king of Moab.
Balak offered sacrifices, and took Balaam where he could see part of Israel's camp.
Balaam instructed Balak to build seven altars and offer seven bulls and seven rams.
Balaam waited for YHVH to tell him what to say.
Then he spoke, "Balak has called me here to curse Israel. I cannot curse whom Elohim has blessed. Who can even count the descendants of Jacob?"
Balak thought he would try another place.
He took Balaam to a different place to look down on the camp.
Then he offered his offerings again.
Balaam heard YHVH's words and began to speak, "Elohim does what He says and does not change His mind. He said He would bless Israel and that is what He will do. He will make them like a great lion rising up."
Balak was ready to have Balaam just be quiet and not bless or curse.
But he decided to try one more spot.
Balaam spoke again, and this time he blessed Israel and described how wonderful the people of Israel are, and how mighty their Elohim!
Balak got very angry and refused to pay Balaam.
But Balaam realized he could only do as YHVH commanded.
There was trouble in Israel, though.
Some people had begun to do wicked things like the people of Moab.
A man and a woman even began to do wickedness right in the camp!
Phinehas, son of the high priest, killed them both.
My First Torah is available as a full color paperback.
Suggested Activities
Copywork passage: Numbers 24:5-7
Tracing copywork book for all the Torah portions

Coloring pages: Aish   Challah crumbs
Read aloud stories: Aish
Worksheets for different ages: One Torah for all
Older child studies: Torah explorers   Restoration of Torah
Torah together – small group Bible study for each portion, also suitable for families with older children
Lessons in Yeshua's Torah – a book packed with activities for each Torah portion (affiliate link)
Morah, Morah, teach me Torah – a book written to help you teach preschool children (affiliate link)
Context for kids
Get more ideas on Pinterest!
[grwebform url="https://app.getresponse.com/view_webform_v2.js?u=BxIrO&webforms_id=4720305″ css="on" center="off" center_margin="200″/]


Save