Therefore, pray in this way:

'Our Father in heaven, sanctified be Your name.

Your kingdom come, Your will be done on earth as it is in heaven.

Give us this day our daily bread.

And forgive us our debts as we also have forgiven our debtors.

And lead us not into temptation, but deliver us from the evil one.'

Matthew 6:9-13 TLV
Have you ever started to pray, and didn't know what to say? When things get scary in the world, I find that sometimes I don't know what is best to pray for. I find myself simply praying, "Yah, I don't understand! Can you please take care of it?"
Have you ever felt this way?
It's in moments just like this that we can turn to "The Lord's prayer." Yeshua taught this prayer to His disciples as a model, a template. We can use it as a guide to know how to pray, especially when we don't know what to pray. Let's take a look at it!
Our Father in heaven, sanctified be Your name
Any time we pray, we should start with acknowledging our God, and how truly amazing He is. Knowing our God is actually the first command.
I am Adonai your God, who brought you out of the land of Egypt, out of the house of bondage.

Exodus 20:2
When we are worried or anxious about the problems in our life, or the problems we see on a larger scale, there is no greater comfort than to know Who our God is. He is the God over storms. He speaks and the wind and the waves are calm. After all, Yeshua instructed Peter to stop looking at the storm, and look instead at Him. When we turn our gaze to YHVH, the storm doesn't seem so big or scary anymore.
When we begin to pray, we need to turn our gaze to Yah, and remember Who He is.
Your kingdom come, Your will be done on earth as it is in heaven
This has been my most favorite and most eye-opening phrase in this prayer. I think the implications never sunk in because of how we tend to break it up. Think about it!
Your kingdom come
Your will be done
on earth as it is in heaven.
See how we tend to pause after the word 'done?' 'On earth as it is in heaven' just ends up sounding like some vague part of a poem. But, if we read it as one sentence, it sounds very different.
Your will be done on earth as it is in heaven.
In heaven, in YHVH's throne room, His will is always done. He is praised 24/7. Yeshua is teaching us to pray that YHVH's will be carried out just as faithfully here on earth. Imagine a world where everyone follows YHVH, and cherishes His commands. Imagine a world where people default to peace and kindness and value human life. Imagine a world where people choose to do what is right regardless of the consequences. That is what you are praying for.
Now, remember Who your God is, and believe that He can truly answer this prayer! Sometimes, our faith may feel too small for such a big prayer, but Yeshua also taught us that if our faith was even as big as a mustard seed, it could move mountains. Is your faith even that big? Than Yah hears your prayer.
Give us this day our daily bread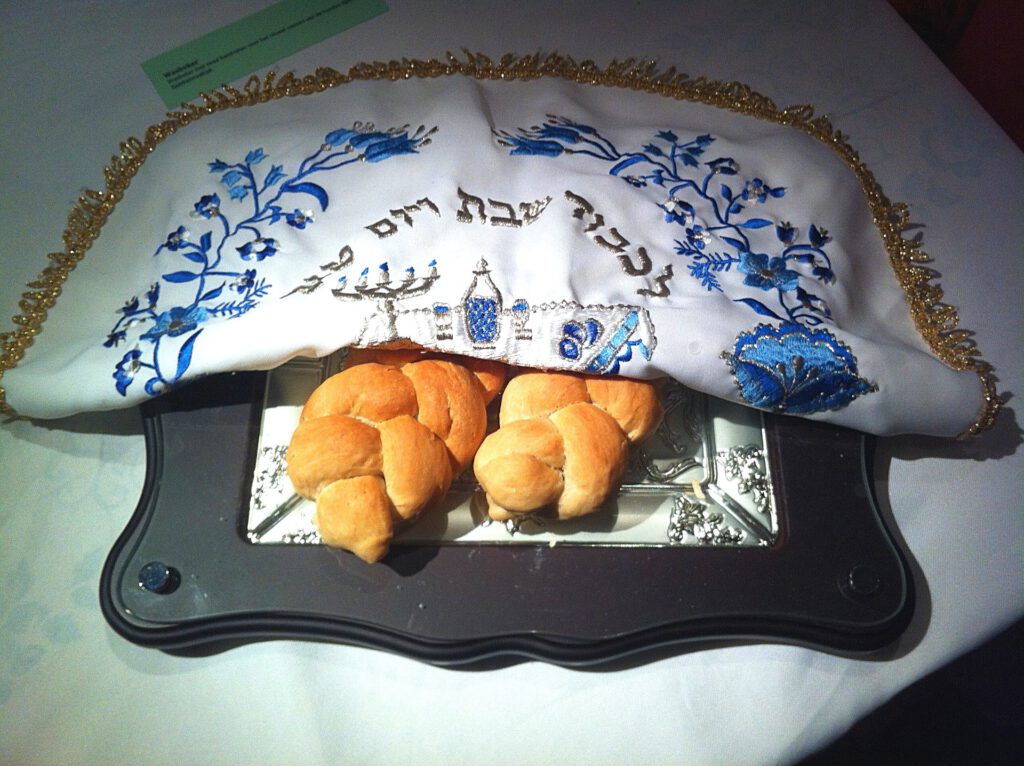 This phrase alone needs to be its own blog post. We are asking Yah to provide what we need today. We are not asking Him to take care of tomorrow or next year, but only today. We must live by faith and trust Him with tomorrow and next year. His promise and provision is for today.
As you pray and ask Him to give you your daily bread, look around. Do you have food to eat today? Do you have a place to live today? Count your blessings today and notice how YHVH has given you your daily bread. Taking the time to be grateful makes it easier to trust Him with tomorrow.
And forgive us our debts as we also have forgiven our debtors.
Any time we enter Yah's throne through prayer, we need to clean ourselves first, just like the priests washed before entering the temple. We need to actively search our souls and repent when we find any wrongdoing. Is it a wrong attitude, or a secret pleasure that YHVH hates? To approach His presence, the sin has to go.
The first sin to confess is pride, you know, the voice who tells you that you have nothing to confess. If you feel that way, perhaps a list will help. This prayer for Yom Kippur is incredibly helpful.
Once you have a clean heart, then you can confidently approach YHVH's throne and petition Him with your requests.
Therefore, since we have a great Kohen Gadol who has passed through the heavens, Yeshua Ben-Elohim, let us hold firmly to our confessed allegiance. For we do not have a kohen gadol who is unable to sympathize with our weaknesses, but One who has been tempted in all the same ways, yet without sin. Therefore let us draw near to the throne of grace with boldness, so that we may receive mercy and find grace for help in time of need.

Hebrews 4:14-16
And lead us not into temptation, but deliver us from the evil one.
Sometimes, when we see evil around us, we feel incredibly powerless to do anything about it. I often lie in bed at night in tears, looking at the current state of affairs. What am I to do? How can I affect change? What even is the most desirable change? But, the problem is that I am trying to bring about the change. My power lies in realizing that I have no power, but I know Who does.
We don't fight with physical weapons, in physical ways. We fight against evil on our knees. We fight by asking for YHVH to deliver us from evil. He fights for us, and recognizing that fact is where our true power lies. In this model prayer, we have already asked for YHVH's will to be done on earth as it is in heaven. At this moment in our prayer, we are asking Him to face evil head-on, and protect us from it. Since we already reminded ourselves of Who our God is, we believe Him to answer our prayer.
How should we pray?
As I wrote this post, I realized that it is rare for myself and others to truly pray this prayer with all our hearts. I want to call each of you, myself included, to truly pray this prayer. We live in a very scary world, and sometimes it is very overwhelming. Will you join me in praying this prayer as Yeshua intended us to do? We can come to YHVH with great boldness, but have we done it? I fear that we have not, but it is not too late. Let's get on our knees and fight the battles in front of us by recognizing that YHVH is the One who fights.
And He wins!
Therefore, first of all I urge that requests, prayers, intercessions, and thanksgiving be made on behalf of all people- for kings and all who are in authority- so we may live a peaceful and quiet life in all godliness and respectfulness. This is good and pleasing in the sight of God our Savior. He desires all men to be saved and come into the knowledge of the truth. For there is one God and there is one Mediator between God and men- a human, Messiah Yeshua, who gave Himself as a ransom for all- the testimony at the proper time. For this I was appointed a herald and an emissary (I am telling the truth; I am not lying), a teacher of the Gentiles in faithfulness and truth. So I desire all men to pray everywhere, lifting up holy hands, without anger and argument.

1 Timothy 2:1-8 TLV