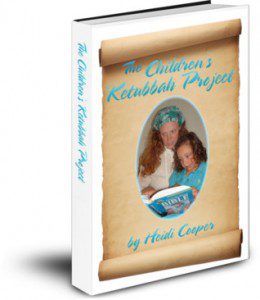 The Children's Ketubbah Project
PDF $3.99


Do you struggle with parenting? Are you getting bogged down with day to day tasks and forgetting the big picture? This book will help you reorganize as a parent. Get ready to refocus your efforts and look at the details of preparing your children spiritually for life.
From the book:
We are not perfect parents. For some reason, YHVH chose to give children to less than perfect parents. I don't know why, but I have to believe that He knows best. Sometimes I feel that I learn more from my children than my children learn from me. That may be part of His plan.
But the essential point is that I need help. I get busy fixing meals and settling fights and washing clothes, and I forget how important my job is. I have been given a little person, a soul, to care for and raise. The things they learn while in my care will stay with them for the rest of their lives.
Yes, ultimately they will stand on their own two feet. They will have to answer for their own choices and we cannot force them down a certain path. But our influence cannot be underestimated. We must realize our position in the molding of a life. This ketubbah is designed to be a constant reminder of our job and our delight as their parent. We need to be reminded, at least I do.
What readers are saying:
"I was impressed with her transparency and humility. She is honest about some of her failures as a parent, but seeks answers to rise above them."     – Debbie
"The Children's Ketubbah Project contains more than a contract. This book shares activities that foster Torah principles and other ideas that nurture your children, which teaches us how to lead biblically."     -Andi  Read her full review here
"After reading author Heidi Cooper's question "What if we wrote a ketubbah for our children? " my desire to take on the Ketubbah project challenge quickly became real. Heidi's transparent vision has certainly flowed to me. I feel her excitement and encouragement to grow families closer together as she entrusts her readers to include our Heavenly Creator in all aspects of their families' lives."     -Carmen  Read her full review here
Get your copy now
PDF $3.99
Printable Ketubbahs
Download free printable ketubbahs to use with the book.