This page is a special place for my daughter, Holly, to showcase her artwork.
She loves drawing so much that forbidding her to draw is our most effective punishment lol.
Here you will find coloring pages for your children to enjoy. We particularly like to color on Shabbat, when we encourage quieter activities. Some are Bible stories, and some are just for fun. Enjoy!
Click on the pictures to download. Each download has two coloring pages.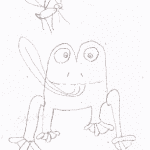 And here are some more single page downloads!
Torah portion coloring pages
Check out these colored pencils! We love them for coloring and drawing.