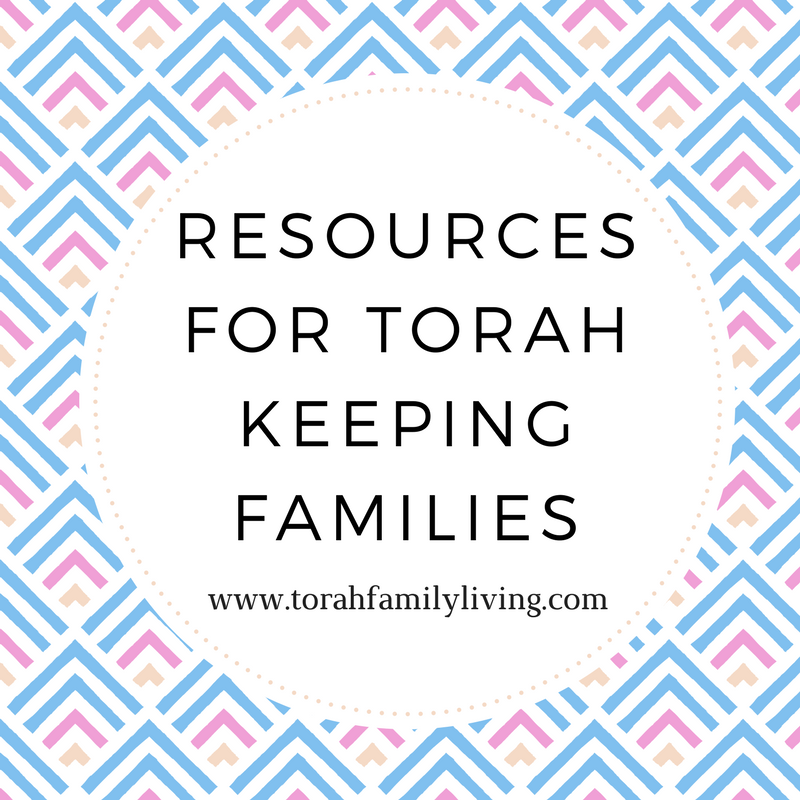 When my husband and I left our church back in 2007, we suddenly realized that we were responsible to teach our children spiritual things. There would be no Sunday school. It was all on us. That can be a very overwhelming feeling, but it doesn't have to be. There are lots of people and resources available to help you. This is a growing list.

Torah portion and Scripture teaching
Torah puppets – These shows are adorable. I thought the characters were funny and engaging, but was also pleasantly surprised at the depth of the teaching in a show geared for kids. They are diligent to help children see Yeshua in the Torah. You can watch on Youtube or buy DVDs.
Hebraic Roots Network – This channel houses teachers such as Brad Scott, Rico Cortes, Bill Cloud, Dinah Dye, Holissa Alewine, and more. I did not list each of these ministries separately, but they are a great group of teachers. You can find them at their website and Roku.
Context for Kids – This ministry involves a series of videos and books designed to give children cultural context to the stories they are learning in Scripture. There are some meaty teachings here, explained for children. You can purchase books on Amazon, and watch video teachings on Youtube. Just FYI, the books and videos do not necessarily overlap in content.
Aleph Beta Academy – This is a website I have just begun to explore. There are dozens of video teachings that will help you to dig deeper into the Scripture passages and look for connections between different stories. Many of the videos are free to watch, some require a subscription.
Torah Class – If you need to learn Scripture thoroughly, this is the site. Tom takes you through the Bible one chapter at a time, looking at what is in the passage as well as providing background information. With a free site registration, you can access transcripts, audio and video of each chapter. He has also put together homeschool textbooks.
119 Ministries – This ministry is an excellent source of video teachings to give you a good foundation in such topics as why we keep Torah, what to do with Paul's teachings, tzitzits, etc.
Torah Explorers – This is a printable study guide for older children to guide them through each Torah portion.
Aish – I have used this site often for their Torah portion resources, which include coloring pages, summaries, and modern short stories based on principles from each portion.
Challah Crumbs – This site has excellent Torah portion crafts, recipes, coloring pages and discussion questions.

Morah, Morah, teach me Torah – This book is designed to help you teach younger children Torah through songs, activities, etc.
Lessons in Yeshua's Torah – This book has hundreds of pages of activities, memory work, summaries, etc. to help teach your children Torah.
Project Torah portion – A homeschool family decided to record a reading of each Torah portion, complete with music background.
Torah together – This site provides study guides for small groups studying the Torah portion together. It also works great for families with older children.
My First Torah – This is my book for young children, an illustrated book of each Torah portion explained for young ears, and written so that beginning readers can read it.

Hebrew
Hebrew 4 Christians – This site is invaluable for learning Hebrew prayers, beginning Hebrew, and summaries of each Torah portion. They also have a beginner Hebrew lesson section for homeschoolers.
Kefar publishing – Head over and get some printable aleph bet coloring pages and Hebrew worksheets.
Biblical Hebrew for Children – This site has curriculum, dvds, and flashcards to get your children started.
Shalom Sesame – This is a series of Sesame Street DVDs set in Israel and designed to give children some exposure to Hebrew in a fun way.
Biblical Hebrew high school course – This curriculum is suitable to use for 2 years of foreign language in high school.
My Hebrew Dictionary – This site is a picture dictionary of Hebrew words. It's fun to go through a letter with your kids and learn some new words.

Encouragement
Torah sisters – Along with her own blog posts, Amy sends out a weekly email full of great posts from other Torah observant bloggers.
Torah for Women – This site specializes in Biblical topics of particular interest to women.
Land of Honey – This is a delightful site full of feast articles, Torah articles, and encouragement for Torah families.

Homeschooling
Homeschooling Torah – This is your package homeschool curriculum based on Torah. For one annual subscription, you get access to materials for all your children K-12, for all subjects.
Heart of Wisdom – Robin Sampson wrote "Heart of Wisdom" and "A Family Guide to the Biblical Holidays." Her site is full of articles, free printables, and more to help you teach your children.
Simply Charlotte Mason – This site is full of books for Charlotte Mason style homeschoolers who wish to teach Scripture to their children. You will find some gems, like "Jashub's Journal."
Aliyah Academy – This site offers record keeping, transcripts and diplomas for homeschool families. They meet the state requirements for Tennessee, which exceeds several other states. We use them for our kids.
Hirn Homeschoolers – This blog has from-the-trenches help to teach your children with a solid Torah foundation. Each child copies the entire Torah before they graduate.
Nothing New Press – This site has a wonderful history curriculum that puts world events alongside Biblical events, and includes important figures such as the Maccabees. The book on Revelation was life changing for me.
PJ Library – This is an organization that mails free Jewish books to young children each month. They could be about Bible stories, feast days, etc. I signed up my 3 and 5 year olds.

Torah Family Living – My site has several resources for homeschoolers wanting to teach Torah in a Charlotte Mason style.
There are so many more resources out there! I'll be adding to this list, and in fact, am checking out several sites right now. Feel free to share some of your favorite resources in the comments, be it books, dvds, websites, etc. Enjoy learning Torah together as a family!
Yes, there are a few affiliate links in this post. If you click through and purchase, I receive a small commission, while your price remains the same. Thanks for your support!
Save