If you are like many families trying to observe Torah commands, you may also be trying to learn Hebrew. More and more Hebrew materials are popping up, and you may want to invest in them at some point but, in the meantime, here are some simple ways to add Hebrew to your day.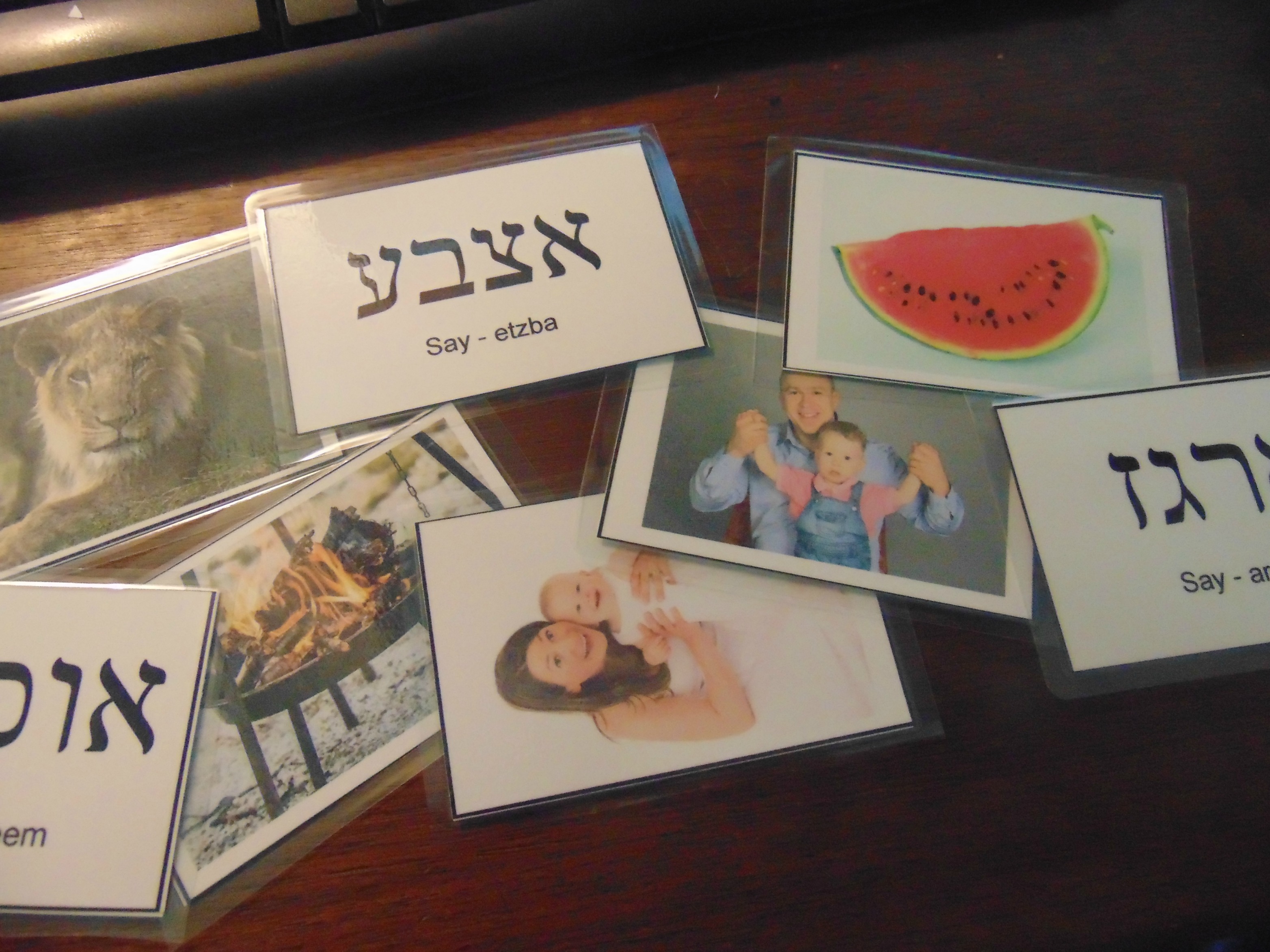 Use Hebrew manners
This has been very effective in our home. We have taught our children both English and Hebrew for words like please. Our toddlers ask for something by saying, "Please, bavakasha?" Teach them both together, and they will both be second nature. Here are some common ones.
Please – bavakasha
Thank you – toda
Thank you very much – toda raba
You're welcome – bavakasha
Good night – Lyla tov
Good morning – boker tov
Hello/goodbye – Shalom
Excuse me – sleeka
Hang an alephbet chart
There are some adorable Hebrew letter charts out there. Be sure to check Pinterest for ideas. I have also seen some cute things on etsy.com. You can also make your own with construction paper, scissors and glue. If your children are making them, they will learn their letters that much easier.
Here are some beautiful posters available for sale. affiliate links
Decorate with Hebrew
There are so many beautiful home decor pieces available now with Hebrew on them, from pillows to mezuzahs. Take some time to explore around the internet and find something pretty for your home.
Play games
Are you familiar with the old card game 'Memory?' You can make a simple Hebrew game with index cards. Make a set of picture cards, and a corresponding set of cards with the Hebrew word on them. Turn them over in a grid pattern, and turn over a pair of cards. If the picture and Hebrew word go together, keep the pair. Take turns until all the cards have been matched up.
Here are some fun ideas.
My Hebrew flashcards printable can be used as a memory game as well.
Learn to count
Just as you can teach Hebrew phrases alongside English, you can also teach counting. Here are the Hebrew numbers for 1-10
1 – echad
2 – shtayim
3 – shalosh
4 – arba
5 – chomesh
6 – shish
7 – sheva
8 – shmoneh
9 – taesha
10 – eser
Make cookies
Even dessert can help your family learn Hebrew, if you make your cookies with Hebrew letter cookie cutters! Many a Jewish mother has introduced her children to the letters by serving up treats shaped like aleph or bet. Just use a simple sugar cookie recipe with cookie cutters similar to these.
Flashcards
If you are ready to bring lots of Hebrew into your day, this Hebrew flash card set will help you. It has 176 flashcards with the Hebrew for everyday words like food items, objects, animals, and more.
This post may contain affiliate links to products I love. Your price remains the same, while I receive a small percentage of any sales to help with website costs.
Save