Description
Perhaps it wasn't that long ago that you learned the importance of keeping Torah. You may not understand it that well yet, and you are trying to study and learn, but your real concern is trying to teach these new concepts to your children. You may not know anyone personally who can help you. Though you may decide to in the future, you aren't in a position where you can change your entire homeschool right now. You just want to make sure they are learning Torah, without a ton of effort.
What if there was a way to get started with teaching Torah to your children, even setting them up to teach themselves, right where you are now?
That's why I created Torah Learning Made Simple. It was born out of my own struggle to get started on this Torah journey, but also make sure my children were learning.
Torah Learning Made Simple can help you with a simple, do-able method for learning Torah principles with your children while working on other school subjects, and you can get started this week.
What is Torah Learning Made Simple?
Torah Learning Made Simple is a program made up of audios and printables. Inside, you will find:
Simple Torah Action Plan – a one page reference to tuck in your homeschool planner or keep on your desk
Weekly commands – a cornerstone of this program, including discussion topics, 64 color-in posters, worksheets, and more
Torah in history – a system and worksheets to teach Torah principles from any history lesson
Torah in fiction – worksheets to elevate your average book report to an engaging process that also cements Torah principles in your child's life
Torah in writing – creative writing prompts to take your child through the entire Torah. They will be writing everything from silly stories to character comparisons.
Audio files, where I will explain exactly how I have taught my children, and I lay out a system for you to do the same.
Right now, you may be struggling with overwhelm. How do I keep Shabbat? What are all these feast days? What am I supposed to eat, and not eat? It's a lot to take in, even if you have been on this Torah journey for awhile. If you were raised differently, and then come to a new understanding, it's a lot to process. I understand. When my husband and I first came to Torah, we felt the same way. We studied and studied, trying to make sense of all these new concepts, but the underlying fear was how to teach all this to our children. To be honest, even though I've been at this awhile, it's easy to get complacent with the spiritual education of my children.
But, imagine having a system to work through teaching Torah to your own children in a flexible and adaptable way, regardless of how much you personally understand of Torah. This system is not a dry, scripted set of lessons to wade through. It's a system that leads to a way of life, a way of looking at what we see and read and come across. I give you the framework and tools, so that you and your children can develop a habit of seeing Torah principles together.
Before I walk you through the details, let me quickly introduce myself.
Who am I?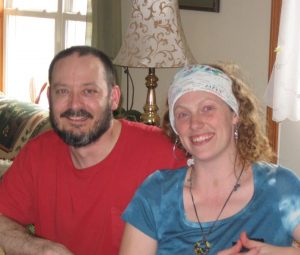 My name is Heidi Cooper. I've been married since 2000, and we have seven children. My husband and I were both raised in the church. I was a Sunday School teacher, and traveling Bible club teacher before we started our own family. When I was pregnant with our fourth child, we discovered that all of the Bible matters, starting at the beginning of Genesis. This led to us choosing to leave the church and teach our children the Bible on our own. Learning Torah and explaining these new ideas to our children has been a journey. That journey led to the creation of my website, www.torahfamilyliving.com. Since then, I have published 3 books, as well as several homeschool and mom resources. My products are often born out of my own needs and the methods that worked among our seven children, and the desire to help other moms successfully teach and raise their children in a Torah-centered environment.
So, how do you get from overwhelm and uncertainty on teaching your children to confidently learning Torah principles together, and eventually watching your children teach themselves?
Torah Learning Made Simple is set up as a quick course to walk you through my Simple Torah teaching system. We'll start with an audio, laying out a step by step framework for learning Torah as a parent, and teaching it to your children. A big obstacle in teaching your children is often feeling like you don't understand it yourself. Thankfully, you can easily learn together as you start out. Once you have the big picture, I'll show you how to reinforce Torah principles during history class. As your children get more proficient in their Torah knowledge, we'll move up to fiction with several worksheets to help them. Older children will greatly benefit from Torah in writing, which includes 5 writing prompts for every Torah portion. Torah Learning Made Simple includes 2 audio teachings and lots of printables.
FAQs
Do you use a certain Bible translation?  No, this system is completely open-ended and can be used with your choice of Bible translation. I'm not teaching you Torah. I'm teaching you how to teach yourself and your children.
Do I need to buy different school books?  No, this system is designed to help you use the books you already have. Choosing to buy books from a Torah perspective is wonderful, but not required.
I've been keeping Torah for awhile. Would this still be helpful to me?  Yes! I have found in my own life that we can get lazy after we've been at something awhile. This system and these printables will be making a fresh appearance in my own homeschool this year to help us keep on track.
Are there age requirements for using this with my children?  Yes, and no. The teaching system is designed to work with the whole family together. With younger children, written assignments should be replaced with verbal conversations or even pictures. Some of the printables, on the other hand, are best suited to children old enough to write independently, perhaps 10 or 11.
Is this a stand-alone curriculum? No, it is a supplement designed to use alongside your existing history and language arts curriculum. If you are in need of a full curriculum that is Torah based, I recommend Homeschooling Torah. This method would work very well alongside Homeschooling Torah as well.
Can I return this later?  No, due to the digital nature of this product, I am not offering returns. However, if you need help implementing this in your own family, you are welcome to reach out to me, and I will do what I can to help you.
Is this a one-time fee or a subscription? This is a one-time fee of $37. It can be used year after year as your children grow.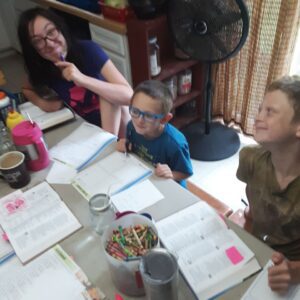 Who is this for?
Torah Learning Made Simple is primarily for homeschoolers. While those not directly educating their children would still benefit from this system, quite a bit of it is designed to be used alongside school subjects in a homeschool environment.
It is also for families that are seeking to keep Torah and learn more together. It doesn't matter if you learned about keeping Torah yesterday or 15 years ago. If you are struggling at all with making sure your children know, understand, and are living by Torah principles, then this is for you.
Bonuses!!
Who wants some extras? I have included several bonuses that will help you to teach Torah to your children. The copywork books alone are almost worth the price of this program.
Torah portion copywork ebook level 1 tracing  ($10.99 value)
Torah portion copywork ebook level 2 printing  ($8.99 value)
Torah portion copywork ebook level 3 cursive  ($8.99 value)
We eat kosher printable book
Tzitzi tutorial and printables
and more to help you teach your children Torah
How does this work?
Click the Buy Now button.
You will be taken to a checkout page where my courses are hosted and asked to create an account.
You will be able to purchase Torah Learning Made Simple after you create an account.
You will receive an email with your login info after purchase.
Login, and get started!
Now is the time to start teaching Torah to your children in a simple, flexible way. Don't wait, your children's spiritual education is too important.