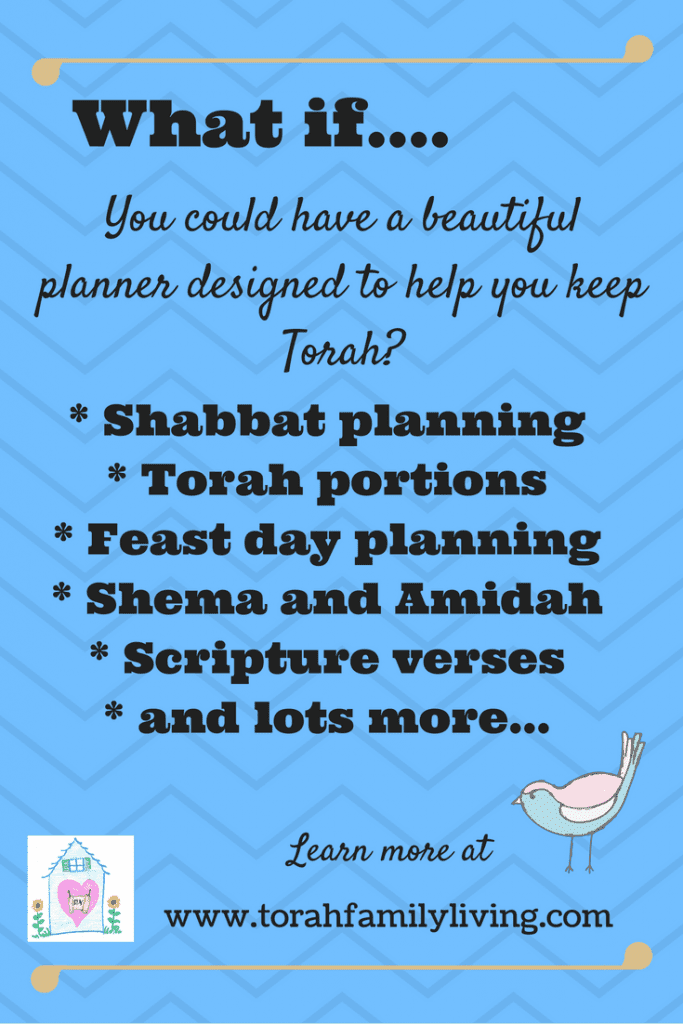 We all want to remember everything we are supposed to do and show up for everyday. Our poor brains sometimes have a hard time. Some people use digital methods to keep track of everything. Personally, I get tired of my battery dying, or something going wrong with technology. So, I still use an old-fashioned paper planner. It doesn't have a battery to die, never needs an update, and keeps my info in my hands, literally!
So paper planners are awesome, trust me, I know! 🙂 But wouldn't it be even more awesome if we could have a planner that not only helps us keep track of all the things, but also is specially made to help us as Torah keepers? Wouldn't it be cool to look in your planner and see the word "Shabbat" and right below it the reference for this week's Torah portion? Wouldn't it just be nifty to have pages for planning feast day celebrations? Wouldn't it be handy to flip to the back and find the Shema and the Amidah? What if it even had bookmarks that looked like tzitzits? Are you completely overwhelmed?
Don't worry. You can have a few minutes to get used to the idea. BecauseTorah Family Living is pleased to introduce the first planner designed just for Torah keepers.
Features:
Monthly spreads with Torah portion references
Scripture verses throughout
Weekly spreads with Shabbat planning section
Feast day planning pages
Blank gridded pages
Adorable feminine design
Shema and Amidah
Tassel bookmarks
And more….
Big News!
The Torah Family Living Planner for 2017 is now available for sale!
You can get the printable PDF
or I can make you a custom planner with laminated covers and a tassel bookmark!
Want to learn more about time management just for Torah keepers? Sign up for my free 8 lesson course on time management, and get an exclusive discount on the planners.
[grwebform url="https://app.getresponse.com/view_webform_v2.js?u=BxIrO&webforms_id=8484605″ css="on" center="off" center_margin="200″/]
Save
Save
Save
Save